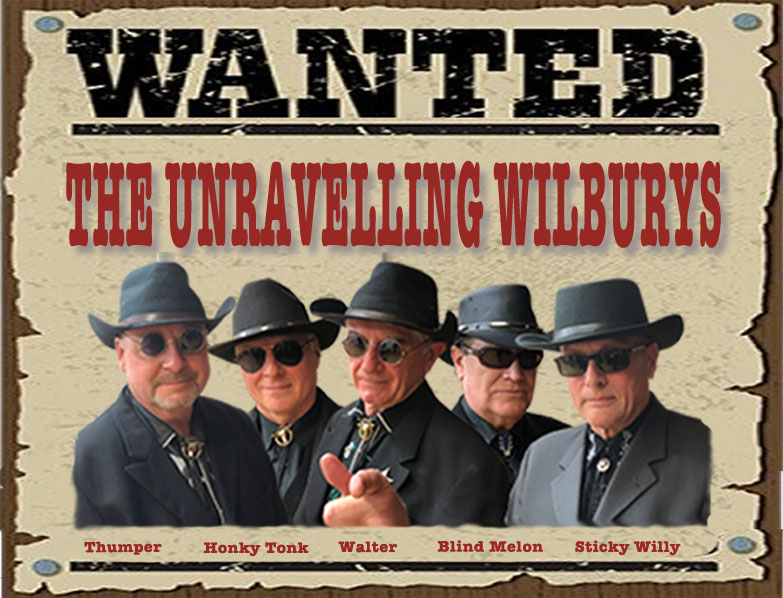 Celebrating THE TRAVELING WILBURYS
The Unravelling Wilburys are a bunch of good ol' boys who turn their skills to replicating the sound and songs of the late 80s super-group The Traveling Wilburys, where five of the greatest names in rock music history, George Harrison, Roy Orbison, Tom Petty, Bob Dylan and Jeff Lynne, came together and recorded two Wilburys albums, Volume One and Volume Three .
The Unravelling Wilburys are Thumper, Blind Melon, Sticky Willy, Walter and Rev. Honky Tonk.  In a former guise as top Beatles project, Sgt Pepper's Only Dart Board Band, (The Flab Five), they toured for over 20 years playing at UK and USA festivals, and at theatres and music venues across Europe and the UK.
Their latest tongue-in-cheek shows feature the boys take on their songs being (allegedly) usurped by The Traveling Wilburys back in the late 1980s at Nashville, Tennessee.  The Unravelling Wilburys now "steal back what is rightfully theirs"  and also 'borrow' some choice solo songs from Messrs Dylan, Lynne, Orbison, Harrison and Petty.
Showcasing their amazing musical talents, the set list features Wilbury songs such as End of The Line, Handle With Care, The Devil's Been Busy, Tweeter And The Monkey Man, She's My Baby, and Heading For The Light, together with classics such as Pretty Woman (Roy Orbison), Mr Blue Sky  (Jeff Lynne), Refugee (Tom Petty), Mr Tambourine Man (Bob Dylan) and While My Guitar Gently Weeps (George Harrison). With all these great songs and plenty of humour throughout, this is a show not to be missed!
" Captured the style and sounds perfectly and with their own added sense of humour gave the audience an evening to remember" 
Show Announcement!
The Unravelling Wilburys are honoured to announce an exciting event that's just been booked for the fall (that's autumn for you British guys!) of 2021!
On Friday 12th November 2021 we will be headlining a show at Bournemouth Pavilion supported by The Fabulous Cash and Carter.
This is  massive event for us good 'ole boys from Nashville so we'd appreciate you getting your tickets nice and early.  Don't pack out the Bournemouth beaches, pack the Bournemouth Pavilion!      
Meanwhile, here's a clip of our "lockdown" performance of  "End of the Line".  Look after yourselves and stay safe. 
Booking agents:  https://liveandunpluggedartistsagency.com
Handle With Care - Excerpt

- The Unravelling Wilburys